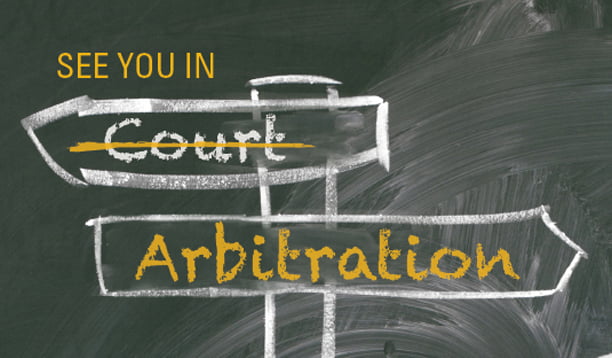 The lack of an affirmative action by the consumer to accept the browsewrap agreement's Terms of Service "TOS") doomed the PDAA therein.
Whether a predispute arbitration agreement ("PDAA") in Terms of Service ("TOS") in an online "browsewrap" agreement is enforceable under the Federal Arbitration Act depends largely on whether the TOS containing the PDAA were clearly noted on the Webpage such that the consumer had clear notice that they were bound to arbitrate. The holding in Berman v. Freedom Financial Network, LLC, No 20-16900 (9th Cir. Apr. 5, 2022), is a primer on how not to provide clear notice.
District Court's Guidance on How Not to Have an Enforceable Browsewrap PDAA
We will let the Court's words in the case below, Berman v. Freedom Financial Network, LLC, 400 F.Supp.3d 964 (2019), and our coverage in SAA 2020-34 (Sep. 9), speak for themselves:
"[T]he webpages do not conspicuously indicate to users that they are agreeing to the Terms and Conditions, including an agreement to mandatory arbitration. The webpages at Exhibits 1 and 3 to the … declaration do not include a specific affirmative means of indicating consent to the Terms & Conditions or arbitration clause. Similar to the website at issue in Nguyen [v. Barnes & Noble Inc., 763 F.3d 1171, 1178 (9th Cir. 2014)], while there is text including a hyperlink to the terms of the agreement located near a button the user must click to continue, there is no text that notifies users that they will be deemed to have agreed to these terms 'nor prompts them to take any affirmative action to demonstrate assent.' There is no tickbox or 'I agree' button for the Terms & Conditions. As in Nguyen, the hyperlink to them is only located in proximity to button with which the user must interact to continue. The 'This is correct, Continue!' and 'Continue' buttons plainly refer to the entry of other information on the page, not assent to the Terms & Conditions…. Although the user must interact with the page and click a button to continue using it, that click is completely divorced from an expression of assent to the Terms & Conditions or to mandatory arbitration. Further, the phrase 'I understand and agree to the Terms & Conditions which includes mandatory arbitration and Privacy Policy' is formatted in black font against a white background which is exceedingly small compared to the larger, more colorful and high-contrast fonts on the rest of the page, making it difficult to read on a large, high-resolution monitor, much less a mobile device. That the very small text providing the hyperlink to the Terms & Conditions also uses the words 'which includes mandatory arbitration' does not change the analysis since the website does not prompt affirmative assent to this statement" (citations and footnotes omitted).
The Ninth Circuit is on Board
A unanimous Ninth Circuit affirms the District Court: [from the official summary]
"The panel held that unless the web operator can show that a consumer has actual knowledge of an arbitration agreement, an enforceable contract will be found based on an inquiry notice theory only if: (1) the website provides reasonably conspicuous notice of the terms to which the consumer will be bound; and (2) the consumer takes some action, such as clicking a button or checking a box, that unambiguously manifests his or her assent to those terms. The panel concluded that defendants' webpages did not provide reasonably conspicuous notice because of the small font size and format and because the fact that a hyperlink was present was not readily apparent. The panel further concluded that by clicking on a large green 'continue' button, plaintiffs did not unambiguously manifest their assent to be bound by the terms and conditions."
(ed: *As we've said before many times as to consumer PDAAs, "when in doubt, spell it out." **The case involved the consumers' suit for Telephone Communication Protection Act violations. ***Contrast this case with the holding in Dohrmann v. Inuit, Inc., 823 Fed.Appx. 482 (2020), where the majority enforced the TurboTax online PDAA. There, this language appeared immediately above the "Sign In" button: "By clicking Sign In, you agree to the Turbo Terms of Use, TurboTax Terms of Use, and have read and acknowledged our Privacy Statement.")

This post first appeared on the Securities Arbitration Alert blog.  The blog's editor-in-chief is George H. Friedman, Chairman of the Board of Directors for Arbitartion Resolution Services, Inc.