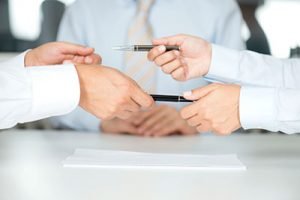 Online Arbitration for Law Firms: An Efficient Solution
When people consider going through litigation to solve disputes, it typically isn't their first choice of dispute resolution. It is time consuming, costly and emotionally draining. Alternative dispute resolution (ADR) options, such as arbitration or mediation, are often preferred over litigation, but even standard arbitration can be expensive and time consuming.  For clients with relatively smaller disputes seeking to collect anything under $100,000, standard arbitration may not be worth the time and money. This ends up hurting law firms, both small and large, costing them new clients and potential business. Arbitration Resolution Services (ARS) is a cloud-based ADR company offering online arbitration for law firms that is fair, efficient and cost effective.
---
Why Online Arbitration for Law Firms?
---
Save Time
The online arbitration ARS provides typically resolves disputes within weeks or just a few months. If chosen, arbitration hearings can be conducted by telephone or video conference at the convenience of all parties involved. This saves your clients time from having to personally appear in court, meaning parties can reach settlements without ever having to leave their homes or offices. Attorneys can also upload documents and evidence from virtually anywhere via our exclusive software, saving time you time as well.
Save Money
Law firms can save their clients' travel and judicial expenses by eliminating the need to appear in court for arbitration or mediation hearings. Since online arbitration is completed at the convenience of both parties via technological means, it is resolved much faster so there are fewer fees accrued through the process.
Contact ARS to Learn More about Online Arbitration for Law Firms
Our panel of arbitrators and mediators consists of skilled professionals averaging over 15 years of litigation and/or judicial experience. With ARS, you can save your clients as much as 80% of traditional litigation costs in as little as 20% of the time, making online arbitration for law firms an efficient and manageable solution for cases that were previously too costly to pursue. Cases with ARS are strictly confidential and not made public, so more clients will be willing to pursue alternative dispute resolution. To learn more about online arbitration for law firms, click here or call (888) 934-1777.
Simple, Fast & Affordable Online Dispute Resolution