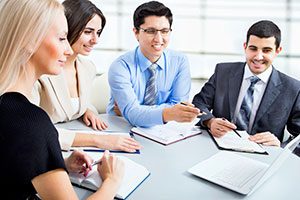 Resolve Smaller Arbitration, Disputes and Mediation Cases with ARS
Arbitration Resolution Services was created to revolutionize the dispute resolution process through technology and efficiency. If you represent a law firm that requires fast, effective arbitration that you can rely on, ARS is your go-to for affordable alternative dispute resolution.
---
The Benefits of Using ARS to Quickly Resolve Disputes of Virtually Any Amount
---
The litigation process is lengthy, meaning your collections are being held up for extended periods of time. Court proceedings and preparation eat up your team's time, and the fees associated with them can quickly mount up. With ARS, your client's reputation is completely safe, and all proceedings are conducted with privacy. Arbitration helps prevent all parties involved from being shown to the public in an unfavorable light and resolve conflicts privately.
Law firms have had great difficulties in finding cost-effective methods for settling disputes, especially when the claims are for relatively small amounts. At Arbitration Resolution Services, our goal is to handle cases in the timeliest manner possible utilizing cloud based technology to expedite the process. Attorneys are capable of resolving their clients' legal disputes quickly, often between a few weeks and a few months, by being able to conduct the entire process virtually by submitting all documentation and conducting meetings online. The ARS team works with you and your staff in order to streamlines the arbitration process, enabling you manage your firm more effectively.
Get Your Free Consultation Today
At ARS, we pride ourselves on the efficiency and accuracy of our results while accommodating law firms and their clients' needs. Our arbitrators and mediators are all professional litigation attorneys, law school professors or retired judges, and we maintain the utmost integrity and privacy throughout the dispute process. Contact us today at 888.934.1777 or fill out the form on our contact page.
Simple, Fast & Affordable Online Dispute Resolution