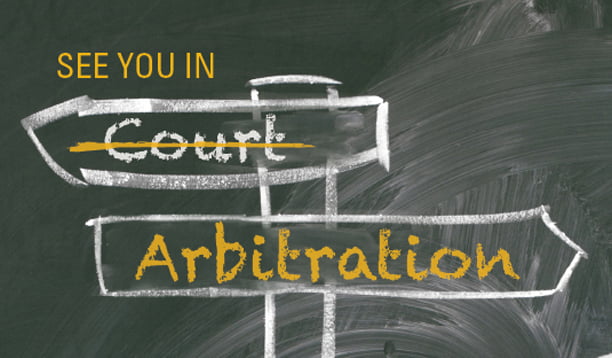 This post first appeared on the Securities Arbitration Alert blog.  The blog's editor-in-chief is George H. Friedman, Chairman of the Board of Directors for Arbitartion Resolution Services, Inc.
In a case of first impression, the New Jersey Appellate Division holds that the strict "waiver of jury trial" requirement for predispute arbitration agreements ("PDAA") involving consumers articulated in Atalese and its progeny does not apply to PDAAs between sophisticated parties of relatively equal bargaining positions.
Atalese v. U.S. Legal Services Group L.P., 219 N.J. 430 (2014), Cert. den. 540 U.S. 938 (2015), tells us that, to be enforced in New Jersey, a PDAA in a consumer context must contain a clear, unambiguous waiver of the right to a jury trial. That standard was later extended to employment matters. But does the Atalese test apply to a commercial transaction involving sophisticated business parties? "No," say a unanimous Court in County of Passaic v. Horizon Healthcare Services, Inc., No. A-0952-21 (N.J. App. Div. Feb. 8. 2023) (per curiam), a case of first impression.
PDAA in Business Contract
The contract between the County of Passaic and Horizon Healthcare Services, Inc. called for the latter to manage the County's self-funded health benefit plan. The PDAA provided: "In the event of any dispute between the parties to this Agreement arising under its terms, the parties shall submit the dispute to binding arbitration under the commercial rules of the American Arbitration Association." There was no express jury trial waiver as mandated by Atalese. After a dispute arose, Horizon succeeded in getting an Order compelling arbitration. The County appealed, arguing that: "the arbitration provision is unenforceable because it lacks the explicit waiver of access to the courts prominently featured in the Supreme Court's landmark decision in Atalese …."
Appellate Court: Atalese is Not Applicable
The Court rejected this argument:
"because, even though the arbitration provision does lack such an explicit waiver, the County is a sophisticated contracting party and is not – as in Atalese and other authorities – an employee or consumer lacking sufficient bargaining power to resist the extraction of an agreement to arbitrate…. We hold – because the parties are sophisticated and possess relatively equal bargaining power – Atalese's requirement of an express waiver of the parties' right to seek relief in a court of law is inapplicable and the arbitration agreement is enforceable…. Atalese, as well as other decisions from our [NJ] Supreme Court, focus on the unequal relationship between the contracting parties or the adhesional nature of the contract when holding that an arbitration agreement could not be enforced without an express waiver of the right to seek relief in a court of law…. This concern for those not versed in the law or not necessarily aware of the fact that an agreement to arbitrate may preclude the right to sue in a court or invoke the inestimable right of trial by jury, on the other hand, vanishes when considering individually-negotiated contracts between sophisticated parties – often represented by counsel at the formation stage – possessing relatively similar bargaining power."
(ed: Makes sense to us.)